Hey guys. So, I've held on to this particular post for a while now.
I'm glad I waited though, because as each day passed, and the vast amount of content that I've been exposed to, the more I thought about sharing it with you. 😉
Today I bring you…Horror Stories
Since the beginning of SA's Load-Shedding Chronicles, people have been looking for means to keep their lights on with the use of generators, inverters, batteries, etc.
It seems as though everyone has become a Google expert on the topic and eventually, they become quite frustrated when things don't add up.
This is actually funny to me – the fact they think that their 2 hours of research would surpass the years of experience and research that I have. 😂
And this is me not being smug about it.
Anyway, moving on…🙄
Due to the high demand of back-up power solutions, every maintenance guy with a tool box and R50 Tester has now become an inverter or generator installer. Please remember that inverters and generators are not the same as an aircon install or general handyman duties. These installs fall under the SANS Code and should only be installed by a qualified electrician.
Safety first
When it comes to Electricity, Safety is the most important factor. With that said, carefully selected Protective Devices are absolutely significant.
In many installs I have seen incorrectly selected Protective devices, or no protection at all. This is a catastrophe waiting to happen. 🙈
I have also seen installs of generators and inverters that were incorrectly specified, which resulted in the equipment failing and items catching alight.
Installations gone wrong
In the case of generators, if an installer gives you a series of steps that you must follow when you Start your generator and if it starts with – "Step 1: Switch off your Main-switch" – then your system was installed incorrectly, and more so very, very dangerously. If they then tell you to turn-off certain circuit breakers, like the geyser and stove, then you should chase them away.
A Burnt Home – No Thanks
I have been to an inverter install (depicted below), where the battery cables needed to carry a current of 300Amps, but the installer used a cable that could barely carry 15Amps. Luckily, the system only worked for 5 minutes after the installer left, or else that home would have burnt down.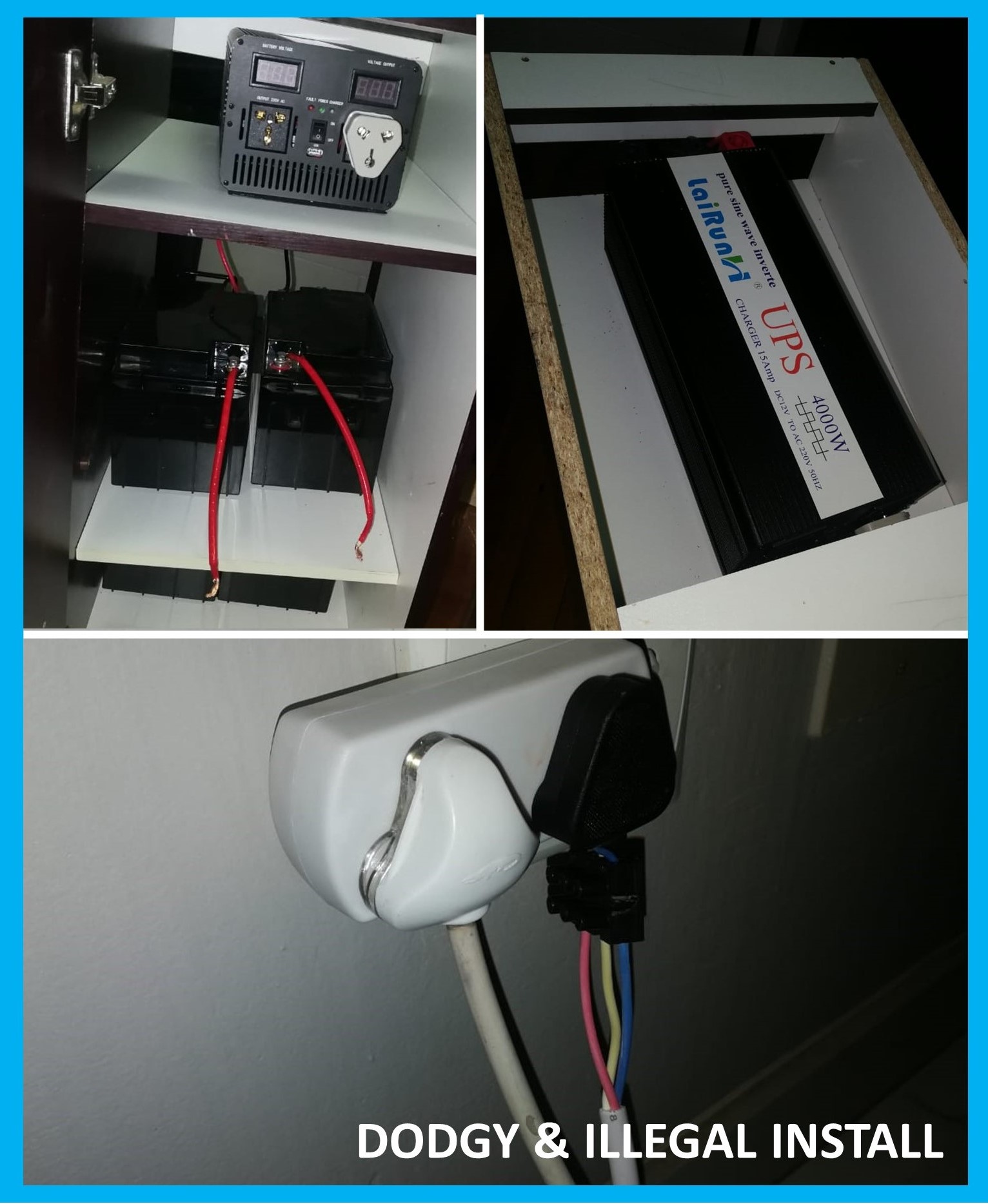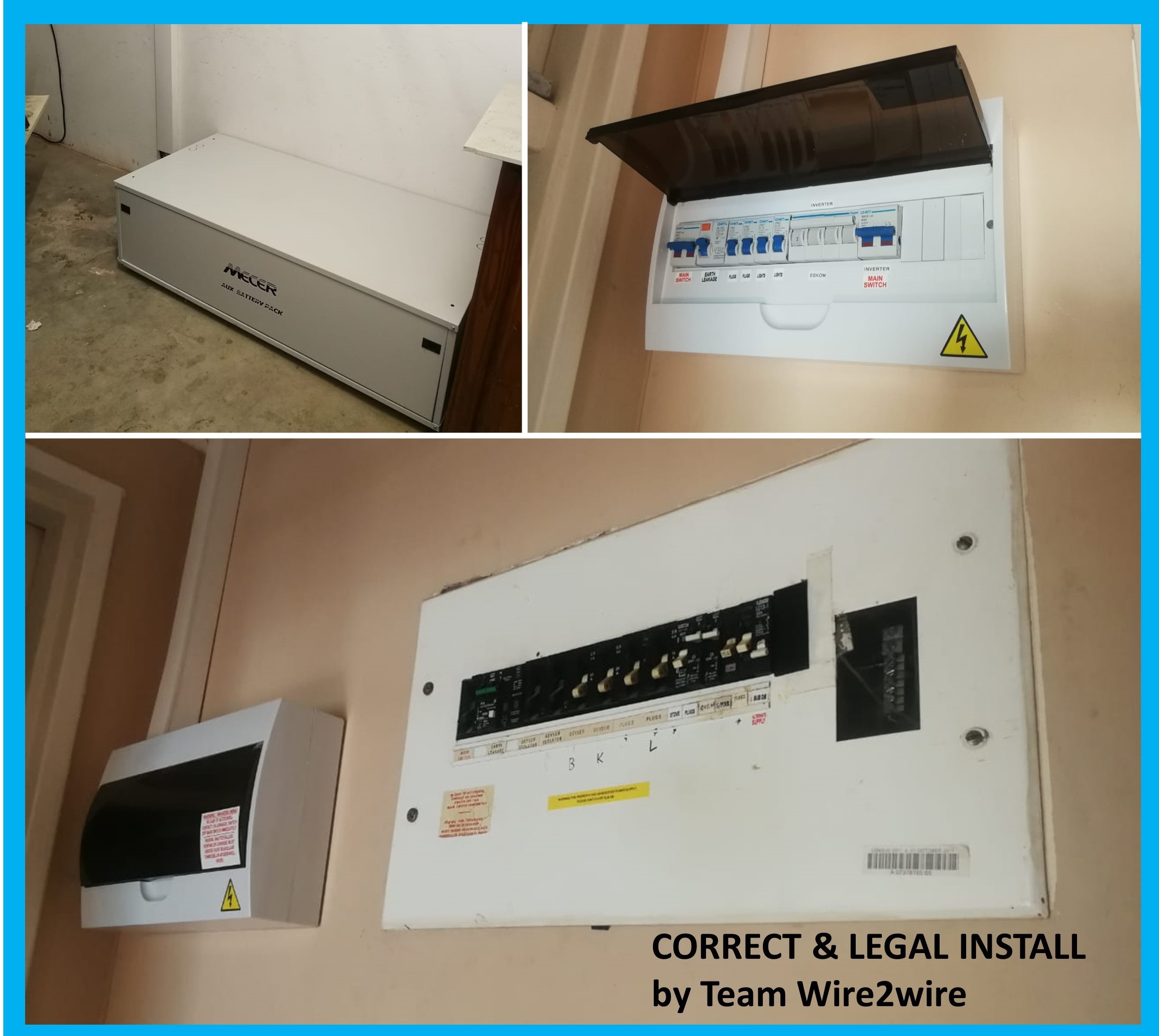 Where have you hidden the Formula?
Remember, over and above just joining a couple of wires, a whole lot of formulas and calculations need to be applied by the Electrician.
I have seen a very expensive inverter system installed by qualified electricians, and they even messed up the formulas, resulting in the system lasting way less than the time they quoted. This left a very disgruntled client who got them to remove all their equipment and leave his premises. I was then referred to him by a satisfied client of mine. I always say that your CV is your previous work.
Beat it, just Beat it 🎵
On another install, I had a prospective client show me a quote by another company and asked me if I could beat it. I looked at it and told him to go ahead with that company, as I couldn't come close to their price.
A few days later, I see a paid #Ad on Facebook by an individual that was ripped off by that same company, and then he went ahead with another company that also ripped him off 😲. The installers were paid; and when their install didn't work, they wouldn't take the guy's calls (Geez, someone definitely walked under the ladder). Poor guy, I thought of reaching out to him to assist, but we were quite swamped at the time. Anyways, the prospective client that first came to me, ended up giving me two inverter installs.
We learn from our experiences
On a separate occasion, I had fitted a high-end system for a client, and we had endless issues beyond our control, from defective batteries, to two different inverters failing on us, to the point where I bought another unit at our company cost whilst the manufacturer went through their process of replacement. Even with all the back-and-forth's to that particular site, and the loss that this install ended up being, we never abandoned the project. We learn and we move forward.
Are you going to ride the wave?
Please remember that these items are Electrical items, and should be connected by qualified personnel.
I issue a Certificate of Compliance on my installs because I am confident in the design of my electrical systems and trust that I can sleep at night knowing that the install is safe to the user and their property.
I hope my exposure to these horrific installs has opened your eyes to the damages that can be caused by cheap/unqualified installations. Guys, unfortunately Load shedding will be here for a while, so don't just wait for the next wave to hit SA. Once the Covid-19 Lockdown is over and you survive the financial tension – Contact us or any other Qualified Electrical Company for sound advise on the best suited system for your premises. Speak to a few companies before you make a decision and don't always base it on the price.
#StaySafe
Don't forget to follow my blog. I have so much to share with you.